Nigerian artist Flavour has melted the heart of many after he shared a video reuniting with his adopted son, Semah.
Recall that Flavour adopted the visually impaired Liberian singer whom he featured in one of his popular songs titled, 'Most High'. The viral video of Semah has shown how grown the young boy has become over the years.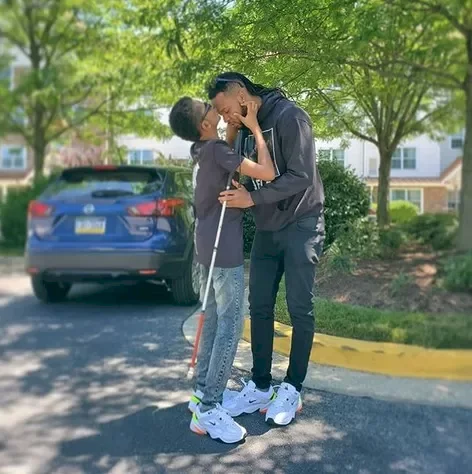 In the video shared online, Flavour and his son, Semah were seen hugging each other while Semah kept touching Flavour's face. Semah has seen shading tears as a sign that he misses Flavour.
Read some comments from social media users below…
@Amakaofficial: I just wish God can just do a miracle and restore his sight🥺the love is deep ❤️
@Emmanyra: This is beautiful. God bless you and he is such a big boy now ❤️🙏🏾
@Yegwu: Made my eyes water I'm not going to lie😥
@chisomsop: See me crying like a bby …. If u have ur sight honestly u don't know what God has done in ur life …. When I had my both almost gone I know what I suffered bfor God helped me …. Watching this boy always bring tears down…. @2niteflavour May God continue to bless you so much
@Lasmaureen: The way he feels his face at intervals. This GOD!